Jump to Recipe
Print Recipe
Flavorful Chicken Fajitas are so easy to make at home. Just marinate the chicken and cook in a cast iron skillet with some peppers and onions. Colorful healthy meal.
Flavorful Chicken Fajitas are so easy to make at home. This colorful and healthy dish can be ready in about 30 minutes if you marinate the chicken ahead of time.
When my mother passed away I brought home her two cast iron skillets (one small, one large). My husband was puzzled when I took them out of the box.
"Don't we already have one of those?"
"Of course, but this is a Lodge."
It made perfect sense to my chef brother, but my husband did not understand that 1) you can never have too many cast iron pans and 2) Lodge is quality.
Yes, cast iron cookware is heavy. Which is why my mother, with her severe rheumatoid arthritis ended up buying the small pan so she could lift it in and out of the oven when she made cornbread.
But, the benefits far out weigh the lone drawback. It heats evenly, it is non-stick without chemical coating that flakes off, it cleans easily (just a scrub and a rinse, boom done), you can stack for storage without worrying about damaging the coating.
Of course I don't worry about storage. My Lodge skillet is almost always on my stove since I use it daily.
You can make this in another type of skillet, I suppose, but I highly recommend you give cast iron a try.
Favorite Chicken Recipes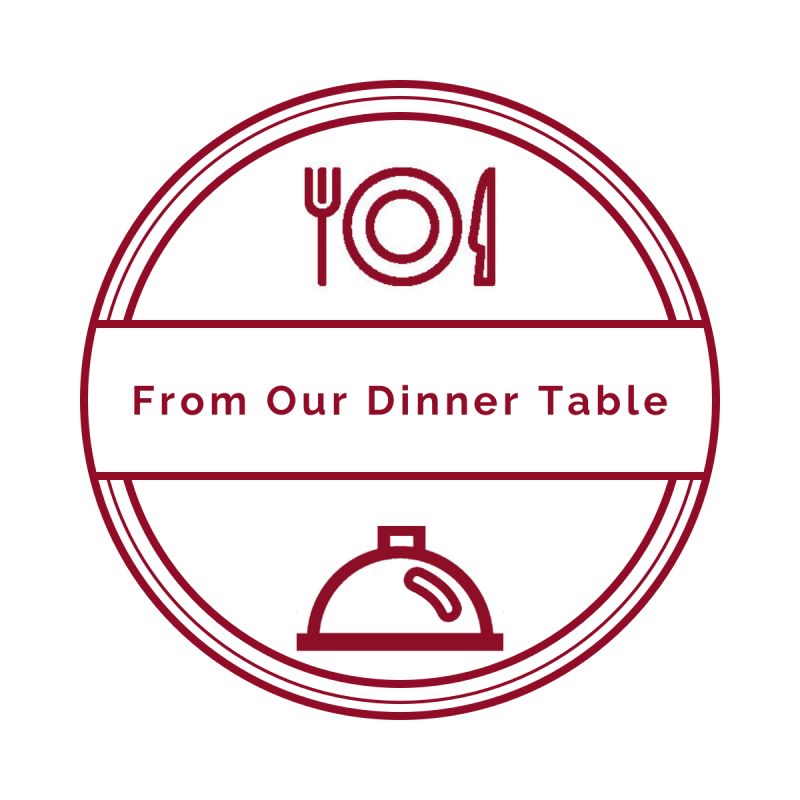 This week the #Our FamilyTable bloggers are sharing their favorite chicken recipes.
Favorite Chicken Recipes
Baked Buffalo Chicken Nuggets by Books n' Cooks
Chicken Fajitas by That Recipe
Cream Cheese Spinach Stuffed Chicken by Making Miracles
Creamy Artichoke Chicken Breast by Art of Natural Living
One Skillet Chicken and Noodles. by A Day in the Life on the Farm
Oven Fried Chicken Thighs by Cheese Curd In PAradise
Panko-Crusted Chicken with White Wine & Thyme Cream Sauce by Sweet Beginnings
Pesto Crusted Oven Fried Chicken by A Kitchen Hoor's Adventures
Sheet Pan Chicken with Sourdough Croutons and Bacon by Hezzi-D's Books and Cooks
Slow Cooker Chicken and Gravy by Blogghetti
Tandoori Chicken by Palatable Pastime
Teriyaki Chicken Fried Rice by The Freshman Cook

We share Recipes From Our Dinner Table! Join our group and share your recipes, too! While you're at it, join our Pinterest board, too!
Chicken Fajitas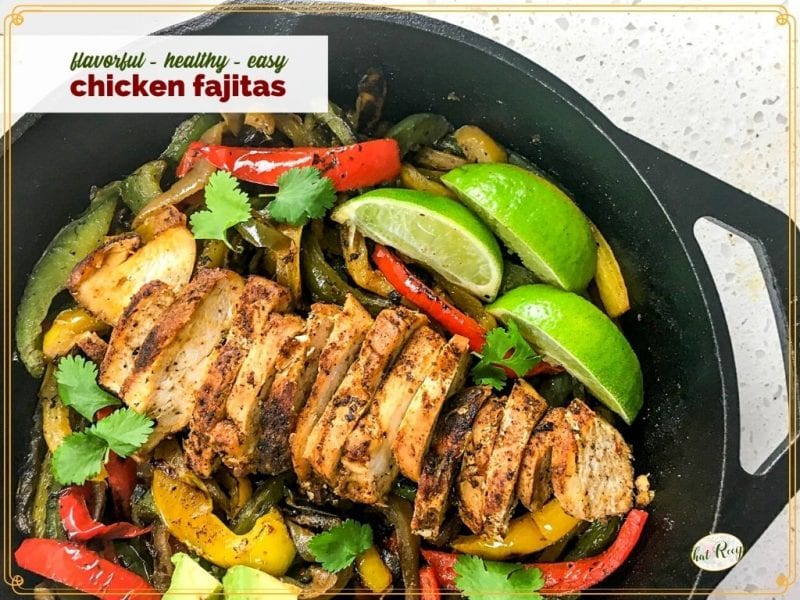 Ingredients
Fajita Marinade Ingredients:
2

teaspoons

chili powder

1

teaspoon

ground cumin

1

teaspoon

smoked paprika

½

teaspoon

onion powder

½

teaspoon

garlic powder

¼

teaspoon

cayenne pepper

½

teaspoon

dried oregano

½

teaspoon

salt

¼

teaspoon

black pepper

3

tablespoons

extra virgin olive oil
Fajitas:
1½

pounds

boneless

(skinless chicken breasts)

¼

cup

extra virgin olive oil

(divided)

1

medium green bell pepper

(sliced)

1

medium red bell pepper

(sliced)

1

medium yellow bell pepper

(sliced)

1

medium white onion

(sliced)

2

large avocados

(sliced)

2

large limes

(cut into wedges)

½

cup

fresh cilantro

(chopped)
Instructions
Combine the marinade ingredients in a small bowl.

Add the chicken breasts to a large zip to lock bag. Use a rolling pin or meat mallet to pound the breasts until they are fairly even in diameter. Add marinade, seal and move contents around until the chicken is evenly coated. Allow to marinate at room temperature up to one hour or place in the refrigerator to marinate longer.

Heat 2 tablespoons olive oil in a large cast iron skillet over medium heat. Place chicken breasts in hot skillet and cook for 7-8 minutes. Flip over and cook until chicken is cooked completely, another 6-8 minutes, or until chicken is cooked through.

Remove chicken from pan and cover with foil to keep warm and moist..

Increase heat on skillet to medium-high and add remaining olive oil to skillet. Add the sliced peppers and onion and cook, stirring frequently, until crisp tender and nicely browned, approximately 6-7 minutes.

Cut the chicken into thin slices and serve with peppers, onions, sliced avocado, lime wedges, and fresh cilantro on the side.
Other Weeknight Chicken Recipes