Jump to Recipe
Print Recipe
Lemon Thyme Wild Rice is a simple side dish made with wild rice and your choice of white or brown rice.
Lemon Thyme Wild Rice is a simple rice pilaf made with wild rice and either brown or white rice flavored with lemon, thyme and tomatoes.
This simple side dish takes about 45 minutes to cook because of the wild rice, but that is almost all hands off time. It goes great with beef, chicken or fish.
You can make it with brown, white or converted rice. But each of those take slightly different cooking times and may need additional liquid. I have detailed it in the recipe, but basically you want to cook both the wild rice and "other" rice in stock until done. You can do it in two separate pots and then combine them at the end as the original recipe instructed. But I am not big on washing extra dishes.
Other than that it is just some fresh lemon and thyme and tomatoes and serve. Pretty simple and delicious.
Other rice recipes you may enjoy:
Lemon Thyme Wild Rice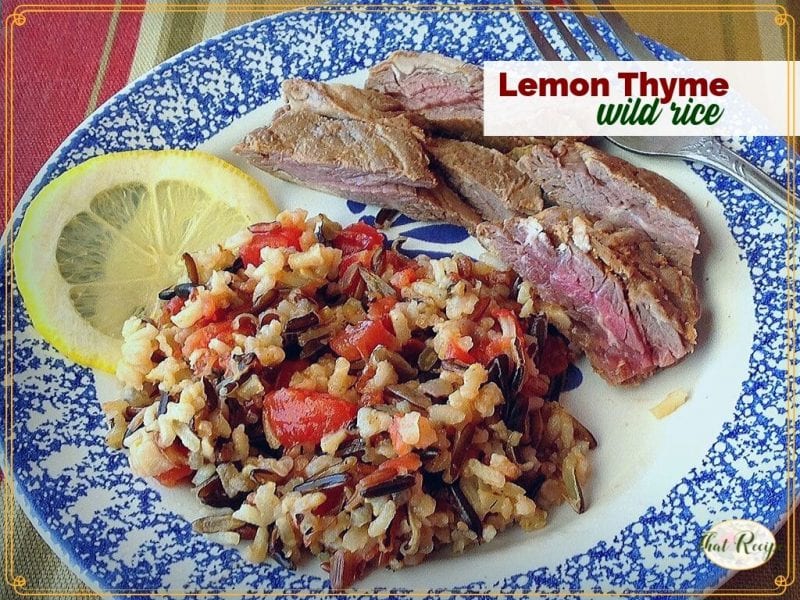 Ingredients
1

cup

wild rice

5

cups

chicken broth

(mixed use)

1

cup

converted white rice

(or brown rice or conventional white rice)

juice and zest of one lemon

1 ½

tablespoon

fresh thyme

(or 2 teaspoons dried thyme)

1

tablespoon

honey

¾

cups

tomatoes

(peeled, seeded and diced)
Instructions
In a large skillet, bring 3 cups of chicken stock to a boil and add wild rice. Reduce heat, cover and simmer

If using BROWN RICE: add full 5 cups of stock and bring to a boil in step one, then add wild rice and brown rice at the same time. Cook until done, about 45 minutes.

For CONVERTED or CONVENTIONAL WHITE rice: Let brown rice steam for 25 minutes, then add remaining stock and white rice. Cook until done, an additional 20 minutes.

Taste test rice, if not done add up to an additional ½ cup of water or stock and allow rice to cook an additional 5 minutes.

Add lemon juice, zest and thyme. Cook until the liquid had evaporated. Remove the stalks of thyme. Add honey and season to taste with salt and pepper. Fold in tomato.
Until next time, happy eating.
~Audrey