Jump to Recipe
Print Recipe
Savory Mushroom Blue Cheese Muffins are delicious with bacon and eggs for breakfast or soup for dinner.
These Savory Mushroom Blue Cheese Muffins are equally delicious with dinner or breakfast. Or snack or brunch for that matter. And they are easy to make too.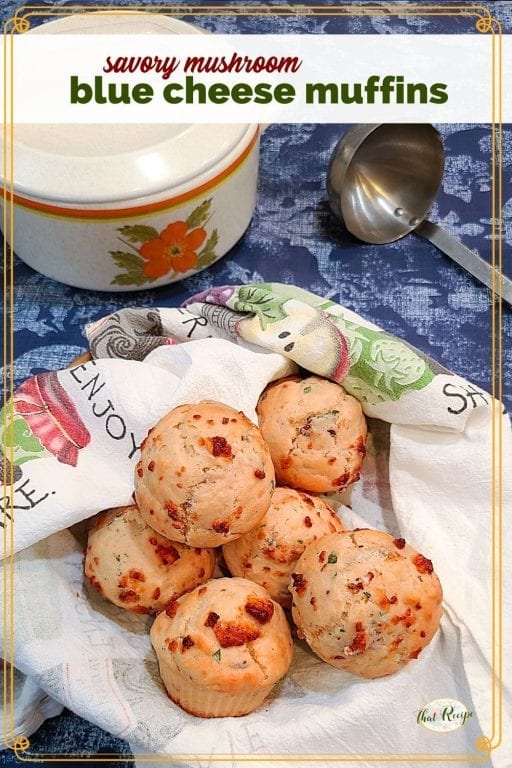 Most people think of muffins as sweet treats, but they don't have to be. Savory muffins are delicious with just about any meal from breakfast to dinner.
And these Mushroom Blue Cheese Muffins are no exception. They start with sautéing mushrooms in some garlic, and then adding some chopped green onions and blue cheese to a basic muffin mix.
The flavor combination meant these disappeared quite quickly, with only a few left over to reheat for a second meal.
#NationalMuffinDay
Thanks to Ashley at Cheese Curd in Paradise for gathering us together to give you plenty of additional Muffin recipe.
Celebrating National Muffin Day!
Meyer Lemon Poppy Seed Muffins from Cheese Curd In Paradise
Blue Cheese Mushroom Muffins from That Recipe
Almond Poppy Seed Muffins from Kathryn's Kitchen Blog
Healthier Chocolate Raspberry Muffins from Books n' Cooks
Banana Cream Muffins from Making Miracles
Sourdough Pumpkin Walnut Muffins from Savory Moments
Strawberry Banana Mini Muffins from Sweet Beginnings
Blueberry Zucchini Muffins from Hezzi-D's Books and Cooks
Caramel Cinnamon Muffins from The Freshman Cook
Corn Dog Mini Muffins from House of Nash Eats
Cheddar-BBQ Turkey Meatloaf Muffins from The Spiffy Cookie
Mushroom Blue Cheese Muffins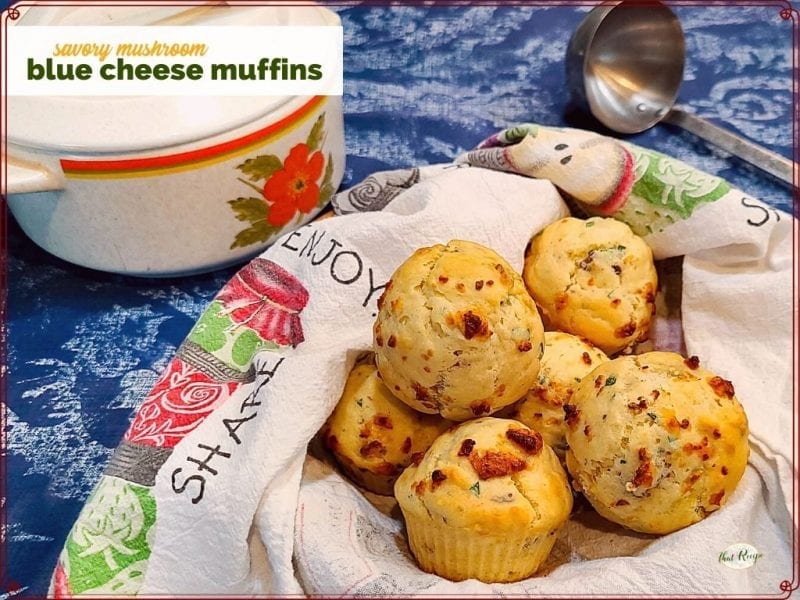 Ingredients
½

cup

coarsely chopped mushrooms

1

clove

garlic

(finely chopped)

2

tablespoons

olive oil

1

large

egg

¼

cup

milk

3

tablespoons

butter

(melted and cooled)

2

cups

all purpose flour

¼

cup

blue cheese crumbles

2

tablespoons

chopped green onions

3

teaspoons

baking powder

¼

teaspoon

salt

⅛

teaspoon

white pepper
Instructions
Preheat oven to 400°F. Grease cups of 12 cup muffin tin.

In a small skillet sauté mushrooms and garlic in olive oil over medium heat until mushrooms are tender, about 3-4 minutes. Remove from heat.

In a large bowl, beat egg slightly with a fork. Stir in milk, melted butter and cooked mushrooms.

Add remaining ingredients and stir just until moist. Divide batter evenly among 12 cups of muffin tin.

Bake at 400° until golden brown, about 25-30 minutes.

Remove from oven and let rest a few minutes. Remove from pan and serve warm.
Sound fabulous? Share it!
Until next time, happy eating!
~Audrey