Jump to Recipe
Print Recipe
Triple Meat Calzones are a delicious semi homemade variation on pizza stuffed peppers, mushrooms, pepperoni, sausage and bacon. Great for lunch or family pizza nights.
Triple Meat Calzones make a delicious and easy semi-homemade meal that is ready in about 30 minutes.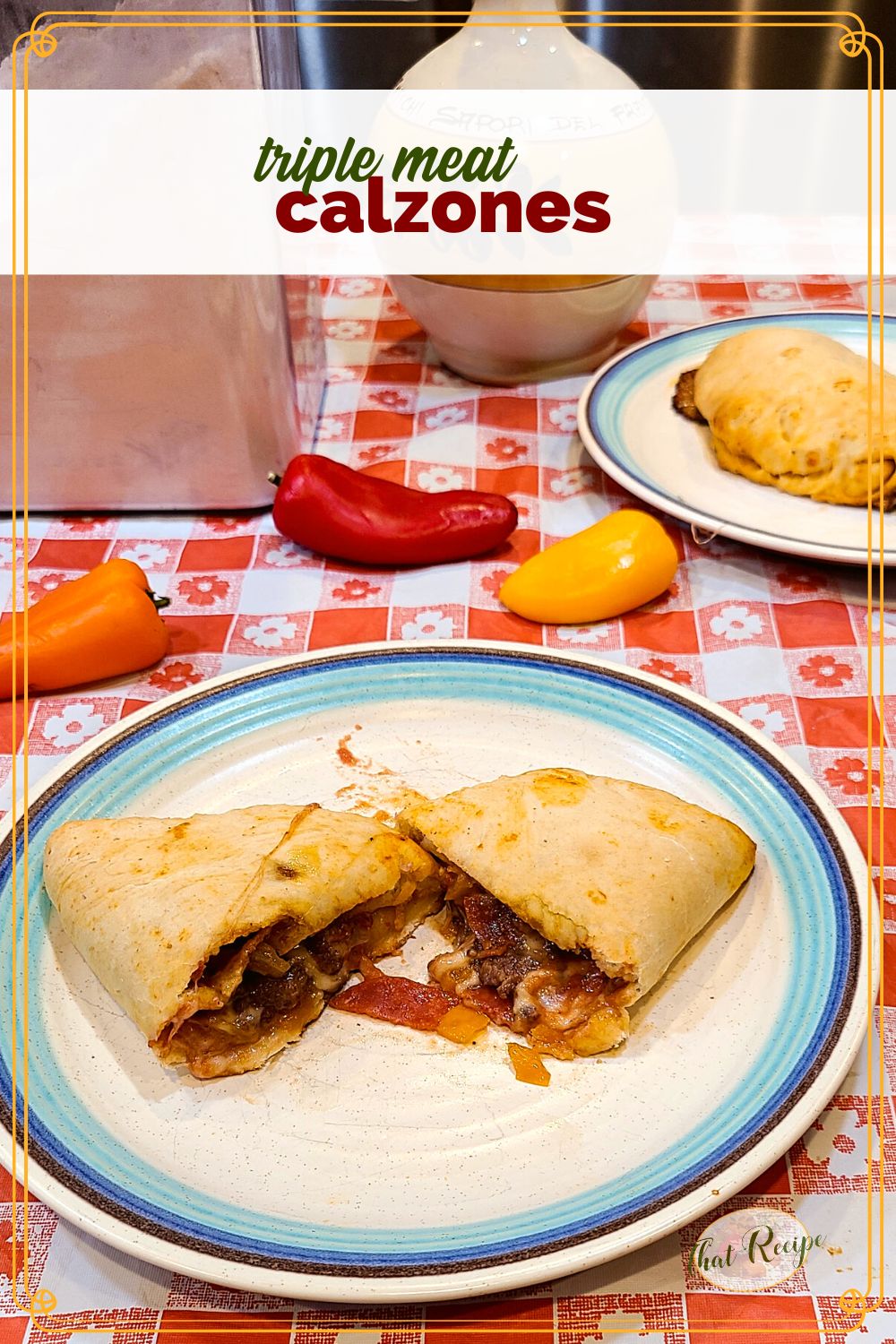 We have pizza in our house on a regular basis. Sometimes it is from a pizza place, sometimes homemade, sometimes take and bake or frozen.
Our homemade pizzas include grilled, Chicago and Detroit style pan pizza, NY style and sometimes these fun pizza pockets.
Calzones Filling Options
Calzones typically have ricotta in them, but I did not have any so I just went with the mozzarella like traditional pizza.
I filled mine with three meats (pepperoni, sausage, and bacon) plus peppers, onions and mushrooms.
My husband and son wouldn't touch it. haha! I made theirs without the vegetables. Which is another great thing about this recipe, you can customize each calzone individually if you want.
If you all agree on the toppings you can make one or two larger calzones instead of the 4 smaller ones.
Calzones Crust
I kept this recipe simple using frozen bread dough because we had some on hand. Grab them when they are on sale and keep them in the freezer for a quick pizza fix.
If you want to make your own pizza dough, this is my go to recipe. Just note that you will need to let it rise at least 1 hour before preparing the recipe.
Step by Step Instructions for Triple Meat Calzones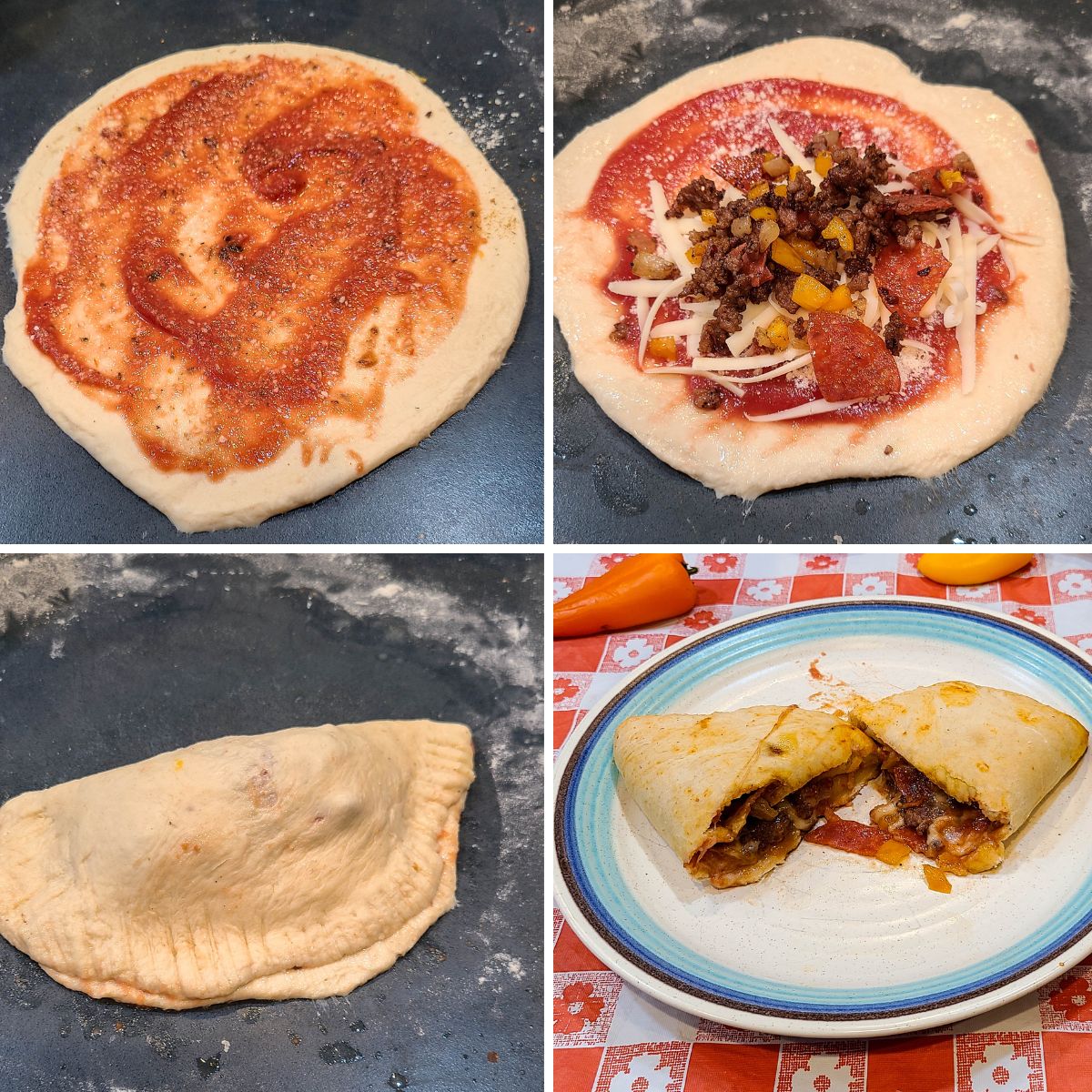 Calzones are as easy to make as homemade pizza:
roll out the dough
top with sauce
add fillings and cheese to the bottom half of the dough
fold over and crimp with a fork
bake until golden
enjoy!
More Pizza Recipes from #OurFamilyTable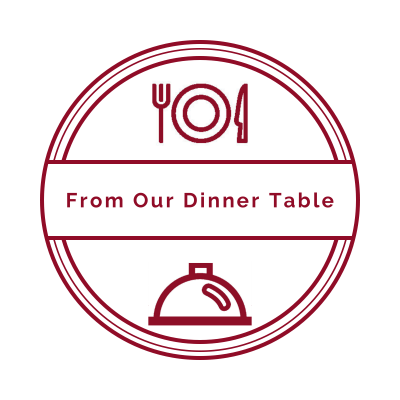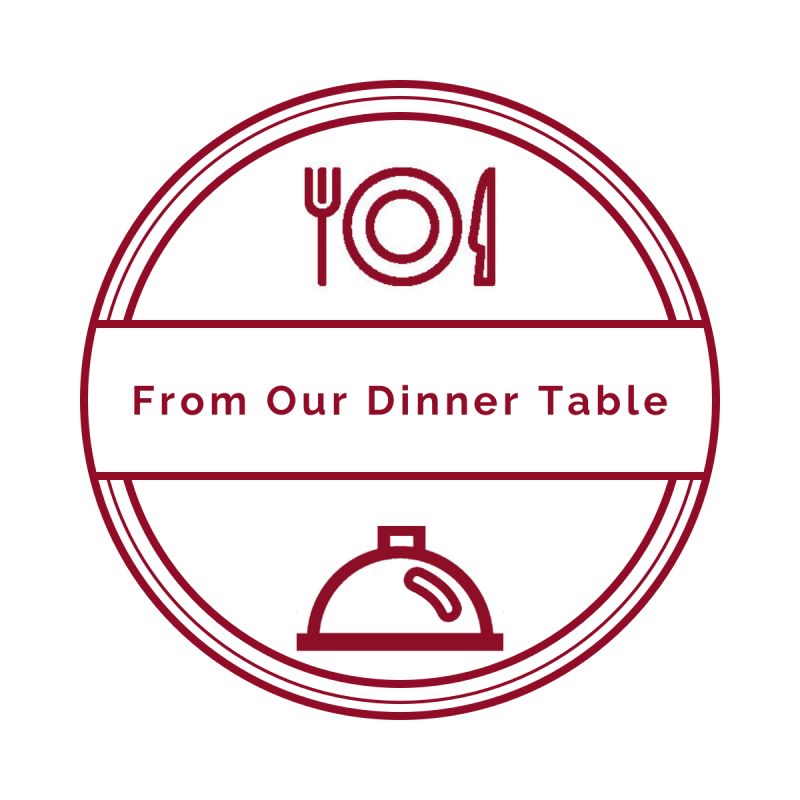 Here are a few more recipes for your next pizza night.
Perfect Pizza Pie!

We share Recipes From Our Dinner Table! Join our group and share your recipes, too! While you're at it, join our Pinterest board, too!
Triple Meat Calzones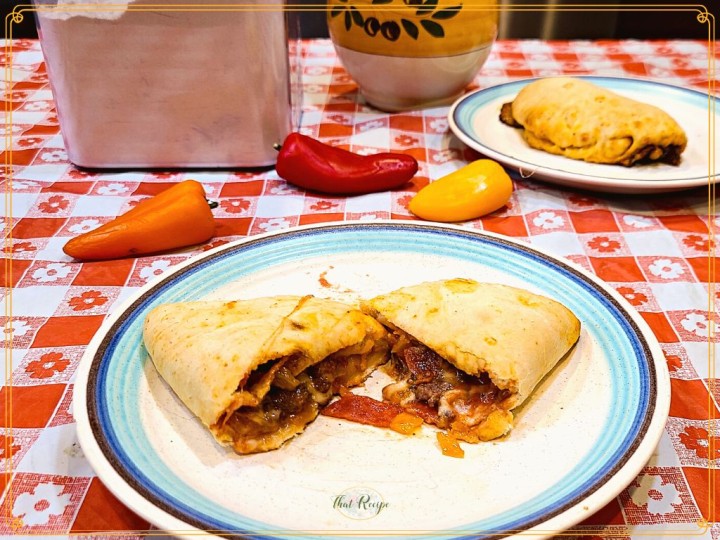 Ingredients
4

slices

bacon, chopped into pieces

(uncooked)

4

ounces

Italian sausage

(uncooked)

4

ounces

mini pepperoni slices

½

cup

onions

(chopped)

½

cup

bell peppers

(choppped)

½

cup

mushrooms

(sliced)

1

loaf

frozen bread dough

(thawed)

flour for rolling

6

ounces

tomato or pizza sauce

6

ounces

mozzarella cheese

(grated)
Instructions
In a medium skillet cook bacon, sausage, onions, bell peppers and mushrooms over medium heat until onions are translucent and peppers are soft, about 3-4 minutes. Add pepperoni slices. Remove from heat.

Divide bread dough in 4 equal pieces. Roll out into a circle on a floured board.

Spread tomato sauce over each circle leaving ½ inch around the outer edge.

Divide topping equally between the circles, placing it on half of the circle only. Divide the cheese evenly between the circles.

Wet the outer edge of each circle and fold the half without topping over the half with topping Use a fork to press down the edges.

Use a spatula to move each calzone to a baking sheet.

Bake at 375° F. until golden brown, about 10-15 minutes.
Sound fabulous? Share it!
Until next time, happy eating!
~Audrey