Jump to Recipe
Print Recipe
Zucchini Bread and Butter Pickles. Small batch sweet and spicy pickles made with zucchini, mustard and celery seeds.
When life gives you too many zucchini, make pickles! These Zucchini Bread and Butter Pickles are quite simple to make as a gift for friends and family. Or keep them all for yourself, who am I to judge?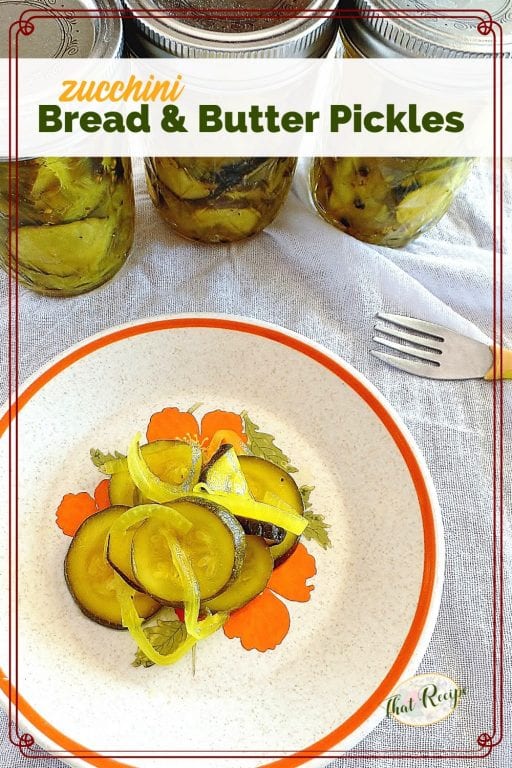 These are quick pickles, also called "fresh pack" pickles. Which means they are brined for a few hours and then mixed with a spicy vinegar solution and canned. In this case it is a sweet and mustard-y solution. You are supposed to let them sit for a few weeks to allow the flavor to develop. I tried them after two days and swooned!
If you have never canned before, you may want to check out Ball's website for safety precautions. Water bath canning isn't hard by any means, but it's a good idea to read it over. Or you can store these in a quart jar in the fridge.
Zucchini Bread and Butter Pickles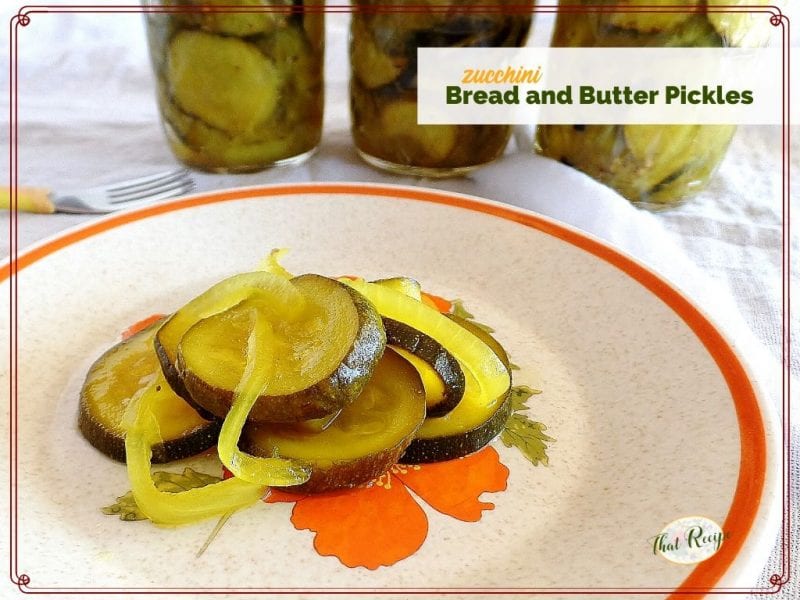 Ingredients
4-5

medium

zucchini

(about 6 cups slices)

1

small

Small onion

1

medium

green bell pepper

1 ½

tablespoon

salt

1-2

cup

ice cubes

⅔

cups

sugar

1

tablespoon

mustard seed

1

teaspoon

dry mustard

¼

heaped teaspoon

tumeric

¼

heaped teaspoon

celery seed

¼

heaped teaspoon

peppercorns

1

cup

white vinegar
Instructions
Prepare vegetables:
-Slice zucchini into thin slices.
-Slice onion into strips lengthwise (not rings) - cut in half lengthwise then into long strips
-Seed and dice the bell pepper.


Combine vegetables in a large bowl. Sprinkle salt over the top and stir in.

Add 1-2 cups ice cubes to the top of the vegetables. Let stand 1 ½ hours.

Drain and rinse the vegetables.

In a large saucepan, combine remaining ingredients. Bring to a boil.

Add vegetables, return to a boil. Reduce heat and simmer for 10 minutes.

Remove vegetables with a slotted spoon and pack into sterilized jars leaving ¼ inch headspace. Ladle hot liquid over the vegetables. Remove air bubbles.

Adjust 2 piece cap and process 10 minutes in a boiling water canner.
Other zucchini recipes you may enjoy:
Until next time, happy eating.
~Audrey