When I saw this recipe from the Roasted Root on Pinterest all I could think was I'd better not tell anyone what is in them until they try them. Most people will look at the ingredient list and be disgusted. Black beans, coffee grounds and balsamic vinegar. Definitely high "eewww!" potential.
I've made a chocolate breakfast cookie with black beans in it that was fabulous so I knew the recipe had potential.  I made the brownies and had a bite. Is it possible to fall in love with a recipe? Oh my goodness! And I do mean goodness. 
Just look at all of the good:
gluten and casein free (assuming your chocolate chips and cocoa are)
ovo-vegetarian (vegan if you use an egg substitute)
loaded with fiber and nutrition thanks to those black beans
low glycemic thanks to the coconut sugar
dump ingredients into blender, whir, pour in pan
fudgey moist delicious taste that you would swear came from "bad for you ingredients".
Seriously, if you didn't know better you wouldn't know these are healthy. You do not taste any black beans, ever. This is not a "comes pretty close to tasting the same" healthy recipe. They taste awesome. PERIOD. The only thing missing is the crunchy top you get with regular flour brownies, which she acknowledges in the comment section. Hence you want to add the coconut or something else on top. Mine was actually shredded fresh coconut which is why it looks a bit funny in the picture.
The only substitutions I made were instant espresso powder for the coffee grounds (yes, she uses real coffee grounds!), regular sugar instead of the coconut sugar and semi-sweet chips for the dark chocolate because it was what I had in the pantry. So mine weren't as healthy as they could be. Next time they will be.  Try to buy low-sodium black beans (or make your own from dried beans without salt) to make this low sodium too!
If I have one complaint it would be that these were almost too moist. Of course, I made them on a hot day and probably should have stuck them in the fridge too cool a bit more before cutting. But, I have always believed if the brownie breaks all of the calories leak out. :).
She cut them into nine squares, I went a bit smaller and got 16. Your choice.
Black Bean Coconut Brownies
Print recipe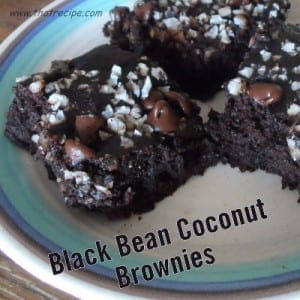 Delicious fudgy chocolate brownies that just so happen to be Gluten Free, Dairy Free, Ovo-Vegetarian and Low Glycemic. Shhh!
Ingredients
1 can 14 ounce black beans (drained and rinsed)
2 eggs
1/3 cup cocoa powder
3/4 cups coconut sugar
1/2 teaspoon coconut oil
1 tablespoon coconut or almond milk
1 teaspoon balsamic vinegar
1/2 teaspoon baking powder
1/2 teaspoon baking soda
1/2 teaspoon coffee grounds
1 cup dark chocolate chips (divided use)
1/2 cup shredded coconut
Directions
Preheat the oven to 350 degrees F. Lightly oil a 9″ x 9″ baking pan.
Put all ingredients except the chocolate chips and shredded coconut into a blender (or food processor) and mix until completely smooth. Fold ½ cup of the chocolate chips into the batter and pour into baking pan. Sprinkle the shredded coconut and remaining chocolate chips on top of the batter.
Bake for 18 to 20 minutes until brownies are set up and a toothpick tests clean. Allow brownies to cool 15 minutes before cutting into them.
—
If it were not 104 degrees outside I would bake another batch right now. Instead I think I will make some ice cream.
Until next time, happy eating!
~Audrey