Jump to Recipe
Print Recipe
These easy Sweet Potatoes with Lemon makes a refreshing yet simple side dish for poultry, pork or fish.
This delightful Sweet Potatoes with Lemon recipe makes a quick and easy side dish that goes well with poultry, pork or fish.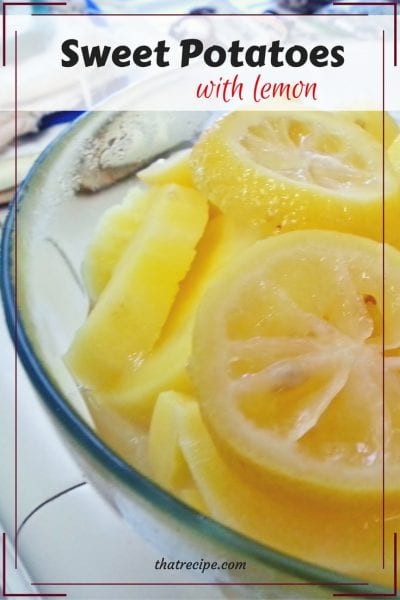 I am not a big fan of canned sweet potatoes or yams drenched in sugar and topped with marshmallows. I prefer to save my dessert for after the meal. These sweet potatoes are slightly sweet and the tang from the lemon makes them a nice compliment to an otherwise heavy meal like Thanksgiving.
If you are cooking them for a holiday meal, you can peel and slice the potatoes and lemon earlier in the day and cook it while the main course is resting.
Sweet Potatoes with Lemon
Ingredients
1

pound

sweet potatoes

(peeled and cut in 1" slices)

1

medium

lemon

(thinly sliced, crosswise)

3

tablespoons

sugar

dash salt

(optional)
Instructions
Place potatoes in bowl, cover with water and soak 10 minutes. Drain and replace water after 5 minutes.

Drain water and place potatoes in medium sauce pan with sugar and 2 ½ cups fresh water. Bring to a boil, then reduce heat and boil gently for 10 minutes. Add lemon slices.

Cook about 20 minutes longer until potatoes are tender, adding more water if necessary. Serve while hot.
Until next time, happy eating.
~Audrey