Jump to Recipe
Print Recipe
Cheddar Beer Bread - easy quick bread made with beer and loaded with cheddar cheese in and on top of the bread.
Yes, you can make a hearty flavorful loaf of bread with just four simple ingredients. And this Cheddar Beer Bread is great alongside so many meals and makes great sandwiches with leftovers.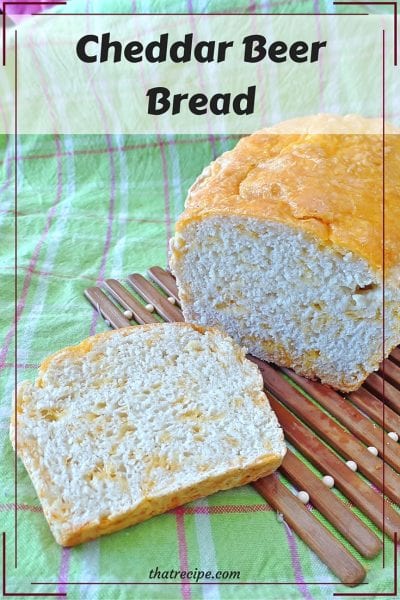 As you can guess, two of the ingredients are cheese and beer. Use any beer and cheese you want here. I "stole" a good Mexican beer from my husband's end of the semester celebratory 6 pack. Thanks, Honey! And I opted for cheddar because I think it pairs nicely with the beer. And, it's what I had on hand... Yes, I say that on the blog a lot.
I served this with a roast beef and then enjoyed it the next day as a roast beef sandwich. I think it would be great with your next barbecue (hint Father's Day is coming up) or a hearty soup or stew in winter time.
Would I serve it to kids? Stop laughing Europeans, Americans get hung up on this concept. The alcohol content actually ends up being quite minimal once it is baked (about 1% per slice if my calculations are correct). They aren't going to get drunk off a slice or two. Besides, once you take a bite you might not want to share it with them.
Cheddar Beer Bread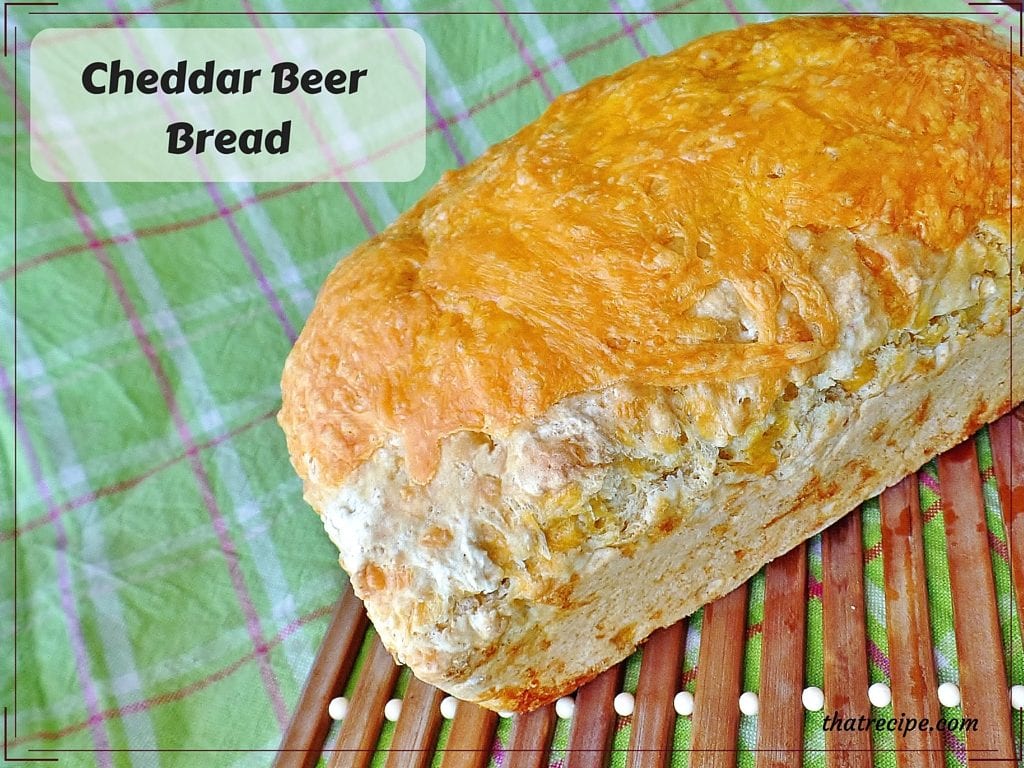 Ingredients
3

cups

self rising flour

(see note above)

2

tablespoons

sugar

12

ounce

beer

1 ½

cup

grated cheddar cheese

(mixed use)
Instructions
Preheat oven to 350 degrees F. Grease a bread pan.

Whisk together flour, sugar and 1 cup of cheese in a large bowl. Stir in beer and mix until thoroughly combined. Pour batter into prepared pan.

Bake for 30 minutes. Top with remaining ½ cup cheese. Bake 15-30 minutes until bread sounds hollow when thumped (or skewer inserted in the middle of the bread comes out clean)
Notes
You can make your own self rising flour by substituting 3 cups all purpose flour, 2 teaspoons baking powder and 1 teaspoon salt.
Until next time, happy eating.
~Audrey
Save
Save
Save
Save