Jump to Recipe
Print Recipe
Southern-style Cornbread Stuffing made with cornbread, biscuits and sausage. Perfect for Thanksgiving but easy enough for any meal.
My Grandma Ruth's Southern Style Cornbread Dressing made with cornbread, biscuits and sausage and flavorful spices for a delicious addition to your Thanksgiving meal.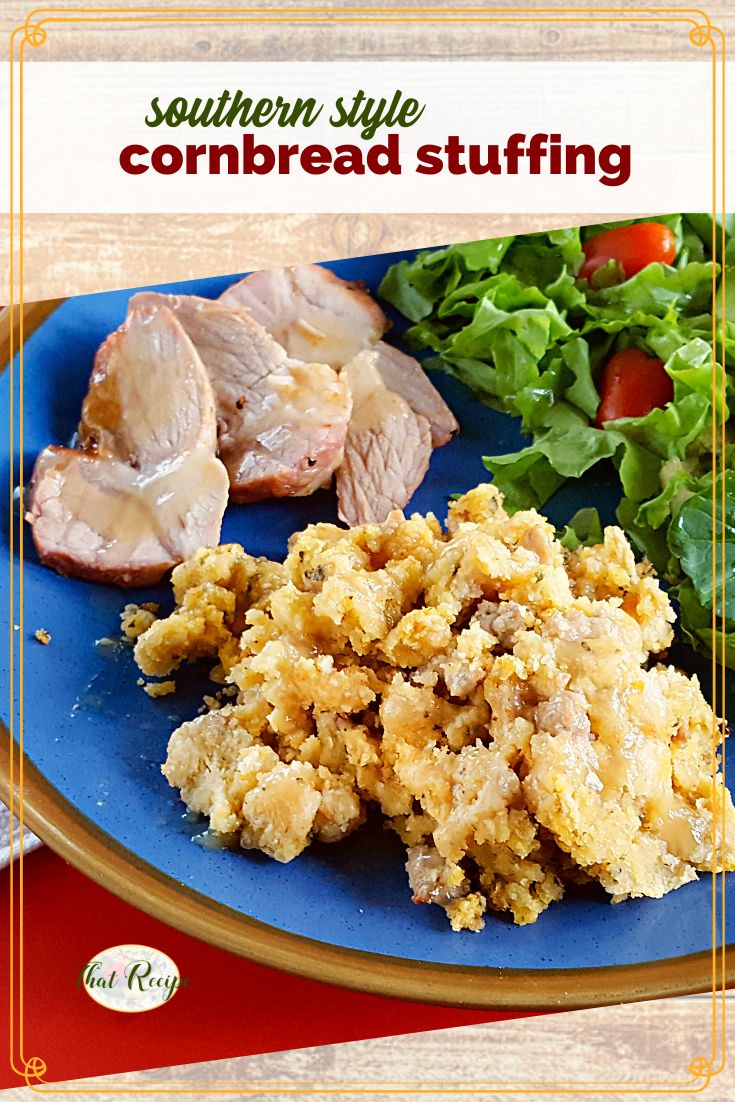 This recipe is so easy a kid can make it. When Grandma was on bed rest during her 3rd pregnancy she instructed her 13 year old daughter (my mom) to make this and the rest of Thanksgiving dinner. Mom ran into the bedroom to check with Grandma on every step and it came out perfectly.
Obviously it is delicious with turkey, but it also pairs well with just about anything. Including on its own.
Ingredients for Cornbread Stuffing
Cornbread and Biscuits: you can use my homemade recipes, or store bought mixes or even buy them premade.
The key is to make them at least a few days ahead of time, crumble them then leave them out to get stale. You can even make them weeks ahead and store them in the freezer in a zip to lock bag.
Sausage: Use your favorite flavor of sausage: sage, spicy, mild, maple, Italian, etc. If you are feeling adventurous, you can even buy ground pork (or grind your own) and add your own extra spices (try our spicy sage breakfast sausage)
Turkey or Chicken broth: It is best to use the flavor of the bird you are serving it with, but use what you prefer.
Other ingredients: celery, onions, fresh parsley, eggs, ground and fresh sage, and pepper.
Southern Style Cornbread Stuffing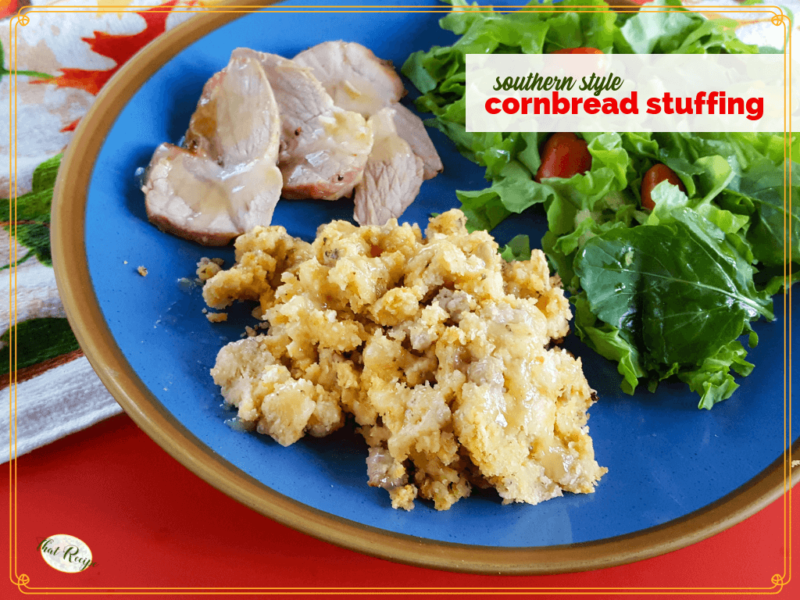 Ingredients
1

recipe

baking powder biscuits

(about 9)

1

recipe

cornbread

1

pound

pork sausage

1

cup

celery

(finely chopped)

1

cup

onion

(finely chopped)

¼

cup

fresh parsley

(finely chopped)

3

eggs

3-4

cups

turkey or chicken broth

1

tablespoon

ground sage

3

tablespoons

fresh sage

(finely chopped)

¼

teaspoon

black pepper
Instructions
Cook biscuits and cornbread several days ahead of time and crumble on cookie sheet or in a large bowl and allow to dry in the open air. Toss by hand occasionally.

Drying allows bread to absorb all flavors and moisture from liquid ingredients. The breads may be cooked weeks ahead of time, allowed to dry and placed in a heavy plastic bag in the freezer for later use. Thaw thoroughly before continuing to prepare the stuffing.

Brown sausage, drain and reserve excess grease. Put reserved grease back in skillet and heat. Sauté celery, onion, parsley, sage and pepper over medium high temperature.

Put crumbled bread in large bowl and mix completely. Make a well in the middle and crack eggs into well. Break yolks with a fork and make a paste of whites and yolks. Mix thoroughly into bread.

Add browned sausage and mix well with hands. Add sautéed celery, onion parsley and sage. Mix again by hand.

Add broth one cup at a time to make mixture moist. Add more broth as needed. Mixture should just barely stick together when a handful is formed in the palm of the hand.

Bake in a greased casserole pan for about 15-20 minutes.
Notes
More Thanksgiving Recipes
Until next time, happy eating.
~Audrey