Garlic has been cultivated for over 5,000 years and is an essential ingredient of most cuisines throughout the world. It adds flavor to a variety of recipes from appetizers to soups to main courses and more.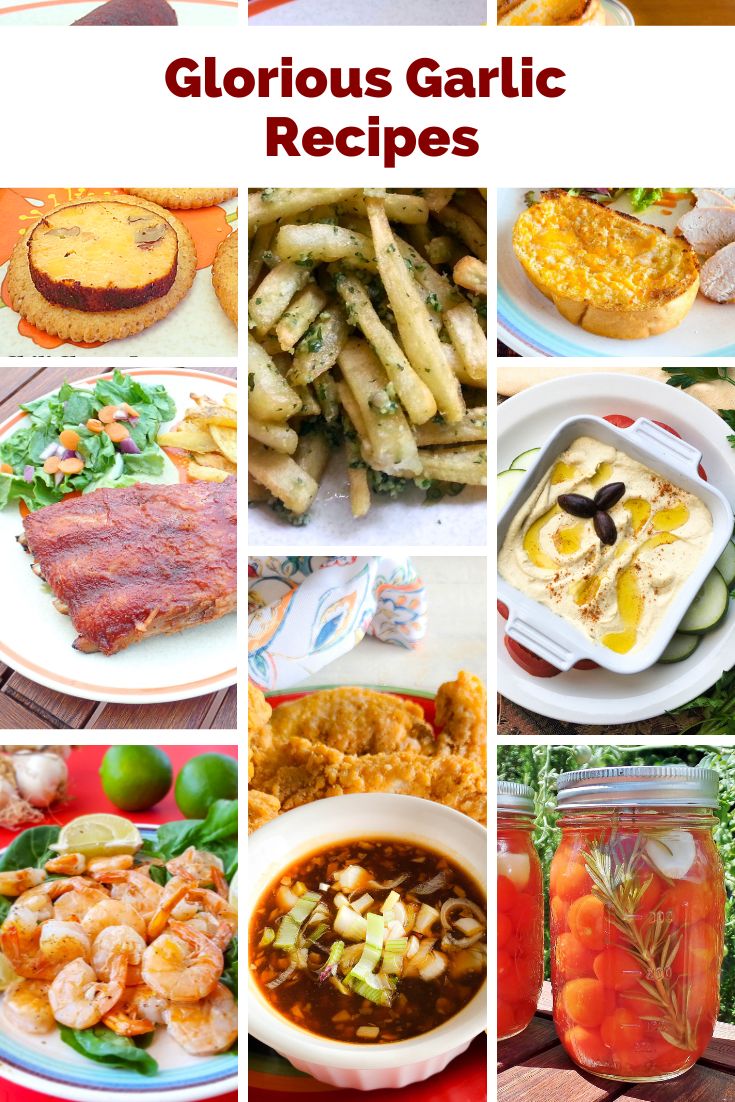 April 19th is National Garlic Day. Another day another national food celebration.
But this is garlic!
The stinking rose.
Definitely celebration worthy in my book. Here are a few of my favorite recipes featuring garlic.
Appetizers
Chili Cheese - spicy cheese and nut log perfect for your next party
Greek Eggplant Salsa - an alternative to tomato based salsa
Pickled Cherry Tomatoes - easy recipe for pickling tomatoes with garlic and rosemary
Soup
Sopa de Pollo Borracho - Soup with loads of garlic and other goodness
Condiments
Tola's Basic Asian Marinade - great Asian marinade for chicken, pork, beef or fish.
Gid and Clark's Righteous Rib Rub - if you want a dry rub instead of a marinade this is great on (or in) so many things
Spicy Garlic Ginger Sauce - delicious for basting or as a dipping sauce
Side Dishes
Garlic Cheese Toast - Claim Jumper copycat recipe
Herb and Garlic Potato Salad - is delicious warm or cold making it great for picnics.
Pesto Fries - I know, you are slapping your head thinking, why didn't I think of that?! Here's our basic pesto recipe that you can put on so many things (but, try the fries just once - yum!)
Main Course
Chicken Fricassee - chicken stewed in tomatoes garlic and mushrooms.
Mititei - grilled Romanian garlic and beef sausages.
Grilled Leg of Lamb - the lamb recipe for people that don't really like lamb (and those that do too).
Pasta alla Vodka with fresh tomatoes - Use fresh tomatoes instead of the usual canned to make this classic dish (with or without the vodka)
Tuscan Garlic and Rosemary Pork Loin - brined pork loin with loads of garlic and rosemary
Dessert
Yes, garlic dessert.
Garlic Ice Cream was served at the Gilroy Garlic Festival. While it was available for sale at the iconic jubilee most people, myself included, just tried the free samples they offered. Think vanilla ice cream mixed with a clove (or 12) of minced garlic.
Until next time, happy eating.
~Audrey