Jump to Recipe
Print Recipe
Chinese Almond Cookies are crispy crunchy cookies with an almond in the center found at many Chinese restaurants.
Chinese Almond Cookies are crunchy and almond-y and highly addicting. And they are so easy to make at home.
I have been in love with these cookies since my childhood when mom used to get some at the grocery store in "a little pink box tied with string".
Years ago I was given a signed copy of Martin Yan's Feast (affiliate link!).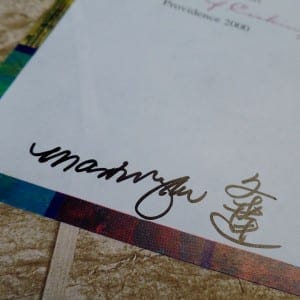 As I lovingly perused this book when I received it, carefully marking pages of recipes to try I was beyond thrilled to find the recipe for my favorite cookies on the very last page! I could make them myself.
And then I forgot about it for 15 years. Ooops!
I have made more than a few other recipes from this book (the char-siu, Chinese Barbecued Pork, is one of our favorites). But, somehow I never got around to making these until now.
Now these are not exactly like the ones you find in the store or a restaurant. He uses butter and shortening instead of lard (yum!). And he also adds brown sugar (double yum!).
If you want pure copycat, use lard and all granulated sugar and a drop or two of yellow and red food coloring to tinge them orange.
How to Blanch Almonds
If you cannot find blanched almonds in the store, fear not, it is so easy to do at home.
Put the raw almonds (not salted, or flavored) in a bowl and cover with bowling water just until the skin begins to pucker, about 30-45 seconds.
Don't let it go any longer or the almonds will lose their crispness!
Quickly drain them and cover in ice water. Drain again and the skin should slide right off.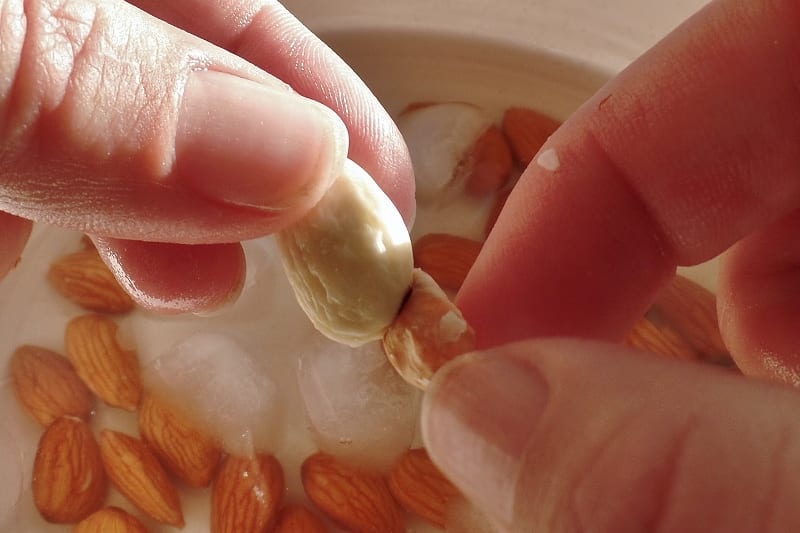 Ingredients
2

cups

all purpose flour

¾

teaspoons

baking powder

½

teaspoon

baking soda

½

cup

butter

(softened)

½

cup

vegetable shortening

⅔

cups

granulated sugar

½

cup

brown sugar

(packed)

1

large

egg

(lightly beaten)

½

teaspoon

vanilla extract

¾

teaspoons

almond extract

40

blanched almonds

1

egg yolk

(optional)
Instructions
In a medium bowl, whisk together flour, baking powder and baking soda.

In a large mixing bowl, cream the butter, shortening, granulated sugar and brown sugar until fluffy.

Add egg and vanilla and beat until combined. Add flour mixture and mix until a dough forms.

Shape dough into a disk, wrap it in plastic and refrigerate for 1 hour (or up to two days).

Preheat oven to 350℉. Line baking sheets with parchment paper or silicon baking mat.

Divide dough into 4 parts, then each part into 10 pieces. Roll each piece into a ball and place on a cookie sheet about 2 inches apart.

Slightly flatten each ball into a disk and press an almond in the center. Brush with beaten egg yolk if desired.

Bake until lightly brown about 12 - 15 minutes. Let cool for 5 minutes then transfer to a cooling rack to cool completely.
Until next time, happy eating.
~Audrey